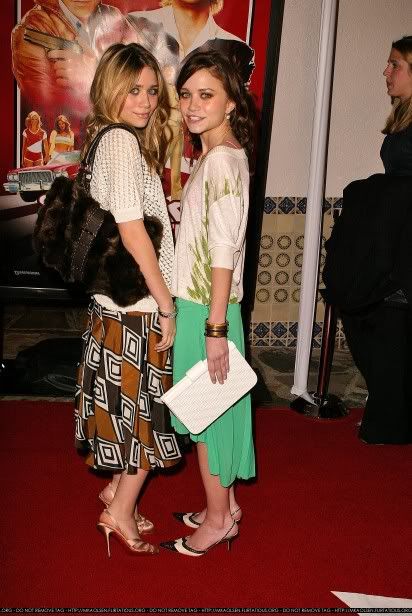 Mary-Kate and Ashley - Well known for their collective style schizophrenia
The first step to solving a problem is admitting you have one, so here it goes. My name is Isabel and I am a style schizophrenic. Sometimes I like to vamp it up in form-fitting black dresses and sleek heels, but I'm equally partial to floaty vintage lace. Then there's the 'rock-chick' vibe I exude most often with my band shirts and perpetually unbrushed wavy hair. Sometimes it's fun to play characters but other times it's just plain confusing. Who am I, and why don't I have a signature style? I would love to have one signature style that I can always depend on, but that's not a decision that can be forced. I suppose I'm still searching for my "indentity", so the closest I can come to taming me style is to just plain admit what works on me and what doesn't.
What DOES work on me:
Neutrals: Black, white and grey. Yes, anything to tame the beast that is my out-of-control personal style.

Patterns: It sounds like a contradiction to rule #1, but it's not. So long as the pattern is in a neutral colour, it's safe. A dash of plaid, polka dots and animal prints are almost necessary to jazz up the neutrals with.

Leg-Enhancing Silhouettes: I don't really know what constitutes an "attractive" leg. All I know is that I'd like to look taller than 5"5, and the way to do that is by baring a lot of leg in either minidresses and skinny jeans.

T-shirts: I am inseparable with my t-shirts. We often don't leave each other's arms for days.
What does NOT work on me:
Cartoon characters: As much as I admire Hello Kitty, I put my foot down on "cute". Unless the cute has a dash of irony a la Emily the Strange, cutesy cartoon characters will not be entering my wardrobe or jewelery box any time soon. As much as I admire people who can pull off the "walking Sanrio billboard look" aplomb, it just doesn't work on me.
Loud Floral Prints: I am not a country-club matron. I am not classy or old. I don't like my clothes to scream at me or anyone who lays eyes on them, therefore I abstain from loud floral prints.
Most colours: Aside from neutrals, the only colours I wear are green, blue and red. Pink makes me look like Lolita. Orange makes me look edible. Yellow makes everyone look like Big Bird. End of story.
So there it is. I will try my hardest to abide by these guidelines in the 12-Step Solution to solving my "problem".